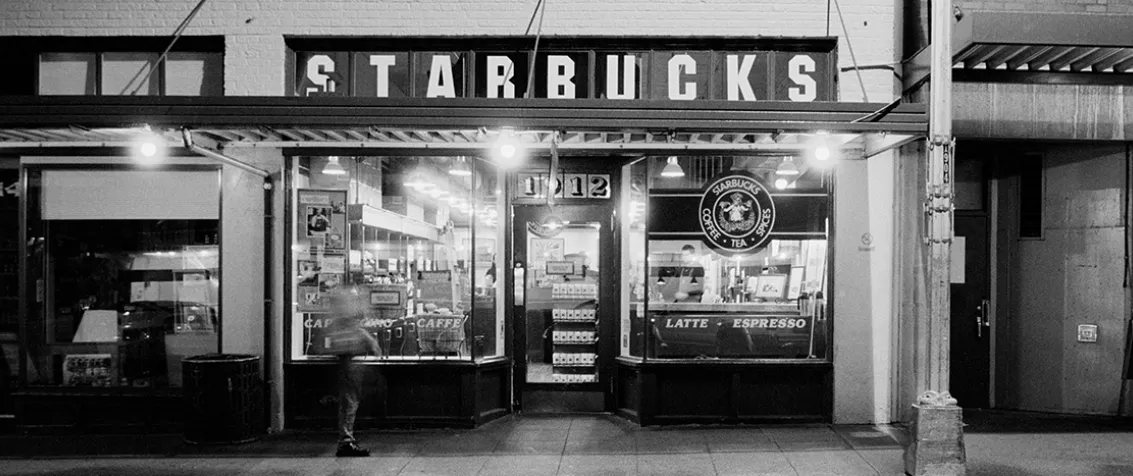 About us
It's repeated millions of times every week: a guest receives a drink from a Starbucks barista. But something special is inherent in every process of this kind. In that brief moment, an interpersonal relationship is formed.
So we make sure that everything we do expresses respect for that relationship. This applies to our commitment to offer the best quality coffee in the world, as well as the responsibility we show to our guests and the communities in whose midst we find ourselves.
Since our early days - some fifty years ago - in a single Coffee House, it has been important to us to improve what we find - everywhere we are present, in all the places we come into contact with.
Company History
There are two reasons why we always enjoy making our way to work: We want to share our love of coffee with friends and help make the world a little better. That was true in 1971 when the first Starbucks opened its doors, and it's still true today.
Back then, the company consisted of a single store in Seattle's historic Pike Place Market. In this tiny store, Starbucks sold some of the world's finest freshly roasted coffee beans. The company was named after the helmsman Starbuck from the novel "Moby Dick." The name was meant to evoke the seafaring romance and tradition of the first coffee merchants.
In 1981, Howard Schultz (Chairman Emeritus) visited a Starbucks Coffee House for the first time. His first cup of Sumatra ignited his love for Starbucks, and he joined the company a year later.
In 1983, while in Italy, Howard Schultz was captivated by the coffee bars there and the romance of coffee enjoyment. This gave him the idea to bring the Italian coffee bar tradition to his home country and create a place for conversation, a third place between work and home where a sense of community could develop.
Today, Starbucks is one of the largest roasters and purveyors of specialty coffee in the world. And with every cup, we strive to bring our heritage and extraordinary experiences to life.
Our Mission Statement
We want to inspire and encourage people cup by cup and in any environment.
Our values
Our partners, our coffee and our guests are at the heart of everything we do and in doing so we embody the following values:
We create a sense of warmth and belonging and welcome everyone with open arms.
We act courageously, question the status quo and seek new ways to develop our company and each other.
We are present and approach others with openness, dignity and respect.
We always give our best in everything we do and stand up for the results of our actions.
We are performance-oriented, but do not lose sight of humanity.